The SureSelectQXT Reagent Kit is a shearing-free transposase-based library prep solution compatible with 50ng input gDNA that requires only 1.5 hours of hands-on time. This enables the generation of high quality sequencing-ready libraries that provide more uniform coverage of the genome especially in challenging AT-rich regions.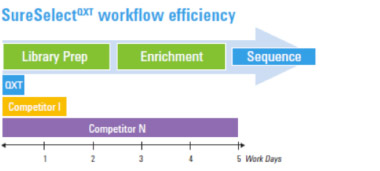 Benefits:
Fastest Workflow
Same day sample to sequencing from only 50 ng of gDNA
Quick 90 minute hybridization and only 3.5 hr total hands-on time
Superior Performance
High sensitivity, specificity and coverage of regions of interest
Complete and accurate variant profiling with less sequencing
Complete and Flexible Solution
Solutions for library prep, capture, QC, automation and analysis
Enables analysis of genomes, exomes, or custom targets
Featured Product -
SureSelect Inherited Disease Panel
The SureSelect Inherited Disease, developed in collaboration with researchers from Medical Genetics, Charite Berlin, is a highly targeted panel that enables analysis of these genes by providing deep coverage or trio analysis even on a benchtop sequencer, allowing for the focused yet comprehensive variant profiling of only those regions known to cause rare inherited disorders.

Featured Product -
Custom SureFISH

Increase probe specificity with precise targeting

Eliminate 150kb resolution limitation

Expand custom FISH utility to non-human or non-standard sequence applications

Sets a new quality standard for custom FISH probes