AGILENT REINVENTS THE FTIR
IMAGING MICROSCOPE
Agilent has introduced a technological breakthrough in microscopes and chemical imaging systems. The Agilent Cary 610 and Cary 620 FTIR spectrometer microscopes offer a triple combination of the highest spatial resolution, with the largest field of view, in the shortest period of time. The instruments are designed for use in a wide range of applications, including biomedical, materials, polymers, food, forensics, pharmaceutical and chemical.

The Cary 610 is a single-point FTIR microscope, while the Cary 620 is a Focal Plane Array (FPA) based chemical imaging FTIR microscope.

Until now, the only way to obtain high quality, high spatial resolution FTIR chemical images has been at a synchrotron – a building-sized particle accelerator. Agilent's announcement has brought the power of synchrotron-based FTIR imaging to the laboratory benchtop.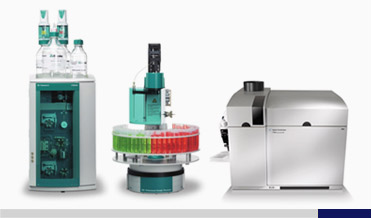 DETERMINATION OF INORGANIC ARSENIC AND SELENIUM SPECIES IN TAP WATER WITH GRADIENT ION CHROMATOGRAPHY-INDUCTIVELY COUPLED PLASMA-MASS SPECTROMETRY (IC-ICPMS)

Simultaneous analysis of arsenic and selenium species in tap water was done by IC-ICP-MS. High pressure gradient IC using Metrosep Dual 3 column was employed to achieve ideal separation of As(III), As(V), Se(IV) and Se(VI) prior to injection into an ICP-MS Agilent 7700 instrument. The IC and ICP/MS was synchronized using remote signal. The MagIC Net software controls the sample loading and determination and gradient program while data handling and manipulation is done with the Agilent Chem Station software.



DOWNLOAD APP NOTE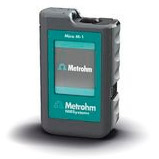 METROHM'S NEW HANDHELD RAMAN SPECTROMETERS WITH REVOLUTIONARY 'ORS' TECHNOLOGY (MIRA)
The Mira analyzers are handheld, high-performance spectrometers for rapid, non-destructive analysis of chemical and pharmaceutical samples, be they liquid or solid. Barely larger than a smartphone, the Mira analyzers may be used anywhere: in the warehouse, in the process, in the field, and – of course – in the laboratory. The user benefits of Mira in a nutshell:
Light, compact, and handy – single-handed operation
Instantly ready to use in any place
Fast and reliable real-time results – no sample preparation required
Point-and-shoot identification – close-range measurements through packaging of different thicknesses (including plastic and amber glass)
Orbital-Raster-Scan technology – reproducible measurements, even of temperature sensitive and heterogeneous samples
Safe – the Basic Package can be used without any additional safety measures required (laser protection class 1)
Maximum flexibility – comprehensive spectral libraries
Robust and maintenance-free
Wide Range of applications – from temperature sensitive samples to any kind of fluorescent samples
Automatic calibration in critical applications


MERCURY AND ARSENIC SPECIATION
ANALYSIS BY IC-ICP/MS

By means of IC-ICP/MS, different valence states of arsenic and mercury in the form of inorganic and organic species can be sensitively and unambiguously identified in one single run. Owing to the absence of interconversions during sample preparation, the determination of arsenic species in biological and environmental matrices is straightforward and can be performed by traditional speciation analysis down to the sub-ppb level. In contrast, species transformations of mercury during sample preparation require the use of specific isotope dilution mass spectrometry (SIDMS). EPA Method 6800 was applied to evaluate and efficiently compensate for potential errors during measurement.



DOWNLOAD APP NOTE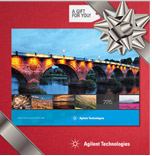 A GIFT FOR YOU: THE
AGILENT 2015 CALENDAR
One way Agilent fosters its sense of community, culture and diversity is through its monthly photo contest for employees, by employees. Photographers are encouraged to share their different perspectives and creativity. Their only reward is recognition by fellow employees…

… and the Agilent calendar. Once a year, Agilent takes a sampling of the best photos – and the stories behind them – and compile them in a downloadable calendar.

We are pleased to share the 2015 calendar with all of you, our families and friends of Agilent.



DOWNLOAD 2015 AGILENT CALENDAR
AGILENT EVENTS FOR
UNITED STATES & CANADA

February 2015

SPIE Bios 2015
Location:
The Moscone Center
San Francisco, CA
Date: February 7-9, 2015

Biophysical Society 2015
Location:
Baltimore Convention Center
Baltimore, MD
Date: February 7-11, 2015

SME/CMA National Western Mining Conference 2015
Location:
Colorado Convention Center
700 14th St.
Denver, CO
Date: February 15-18, 2015

AAFS
Location:
Hyatt Regency Orlando
9801 Internationla Drive
Orlando, FL 32819
Date: February 17-20, 2015

Advances in Genome Biology and Technology (AGBT) 2015
Location:
Marco Island Marriott
400 South Collier Boulevard
Marco Island, FL 34145
Date: February 25-28, 2015

March 2015

Future of Genomic Medicine VII
Location:
Scripps Institution of Oceanography
Robert Paine Scripps Forum for Science, Society and the Environment
Samuel H. Scripps Auditorium
8610 Kennel Way
La Jolla, California 92037
Date: March 5-6, 2015

Advances in Molecular Diagnostics
Location:
R11.1100, via Elevator A
MD Anderson Cancer Center
1515 Holcombe Blvd.
Houston, TX 77030
Date: March 14, 2015

ACMG
Location:
Salt Palace Convention Center
100 SW Temple
Salt Lake City, UT, 84101
Date: March 24-28, 2015

NMBIST 2015- New Mexico BioInformatics, Science and Technology Symposium
Location:
Drury Plaza Hotel
Santa Fe, New Mexico
Date: March 26-27, 2015

SAVE THE DATE

The 50th Annual Western Canada Trace Organic Workshop
Location:
WinSport - Markin MacPhail Centre
at Canada Olympic Park
Calgary, AB, Canada
Date: April 27-29, 2015

EnviroAnalysis 2015
Location:
The Environmental Solutions Conference
Banff, Alberta, Canada
Date: July 12-15, 2015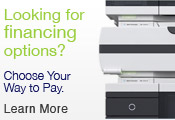 PROTECT YOUR INVESTMENTS

An instrument failure is serious business. It wastes time, sample, effort and money. Worst of all, it throws your lab off schedule – hurting your overall productivity, causing you to miss important deadlines and even calling your lab's overall reliability into question!

WE HAVE YOU COVERED




WANT TO BE FEATURED IN OUR NEXT NEWSLETTER?

Do you have a story to share or has something you discovered had a positive impact on you or your laboratory? Share your story with us, and it could be a feature in our company newsletter!

SHARE YOUR STORY




KEEP UP-TO-DATE WITH THE LATEST INDUSTRY NEWS.
Sign up for our e-Newsletter
and get updates on:
Laboratory Solutions
Latest Products
Events & Seminars
Promotions
Maintenance Tips
Application Notes
Field Tested Results
Get to know us
And Many More!

SIGN UP HERE