Welcome to the first edition of the
KPrime 2017 Quarterly Newsletter for
Agilent Technologies and Metrohm Canada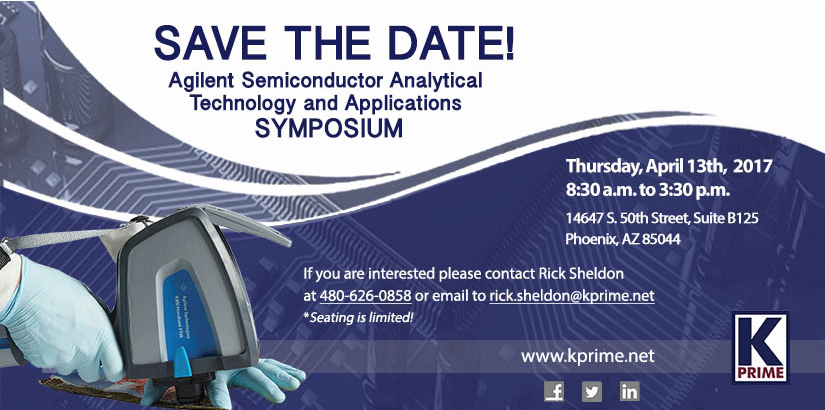 Agilent Intuvo 9000 GC with 5977 MSD
Analysis of Semivolatile - Application Note



Semivolatile organic compounds (SVOCs) are molecules with intermediate volatility, making them abundant in both the vapor and condensed phase at ambient temperatures and pressures.
Agilent Intuvo 9000 GC can easily achieve the rigorous calibration specifications established in USEPA 8270D for the quantitative analysis of SVOCs in environmental matrices.


Detection of Sulfur Compounds in Light Petroleum Liquids According to ASTM D5623 with Dual Plasma Sulfur Chemiluminescence Detector and the Agilent Intuvo 9000 GC
Agilent application note

Sulfur compounds in gasoline samples are detected using an Agilent Intuvo 9000 gas chromatograph con gured with an Agilent 8355 dual plasma sulfur chemiluminescence detector (SCD). The 8355 SCD provides linear responses from 0.01 to 1 ppm. Detection of sulfur compounds was achieved down to 2 ppb.

Creating Consistent, Efficient, and Cost-effective Analytical LC Methods
Agilent LC Method Development Applications Notebook



Today's method development demands flexible, highly efficient initial development, screening, and method transfer across HPLC and UHPLC systems.
The Agilent InfinityLab Method Development Solution addresses these needs by combining superior instruments and columns, smart supplies, intuitive software, and dedicated services. Together, these innovations allow you to:
Find your optimal combination of selectivity, resolution, and speed
Screen hundreds of chromatographic conditions automatically—on a single system
Reduce costs through automated, unattended operation
Metrohm ECO IC
The very best of ion chromatography for everybody


Everybody should be able to benefit from the power of ion chromatography that's the idea of the Metrohm Eco IC. Focusing on the essential, this new instrument provides the very best of ion chromatography at a very affordable price.
Eco IC is the perfect choice, if you do routine water analysis and need a dedicated solution you can rely on, also teach ion chromatography in higher education and depend on a robust instrument, as well as need an entry-level instrument you can upgrade any time.

Mira M-3 Handheld Raman Spectrometer
Metrohm, on-site verification of materials in seconds



The Mira M-3 is one of the fastest and most compact handheld Raman spectrometers for material verification and identification in the market. Barely larger than a smart phone and with a weight of just 752 grams, the Mira M-3 enables true single-handed operation and provides highly accurate results in seconds.

Mid-Canada AOAC Day 2017
Wednesday, June 21st, 2017 - Winnipeg, MB



It is Manitoba's largest annual scientific conference and trade show. It has been very successful over the years, attracting scientists, chemists, biologists, technologists, laboratory managers and other scientific professionals around Winnipeg, Manitoba. Last year's AOAC Day attracted over 150 delegates. Don't miss this opportunity!

ACADEMY
Courses and Trainings

Agilent Technologies

GC-CS-2100c - GC ChemStation Data Analysis & Reporting

GC-7890-2200c - Agilent 7890A/B GC Maintenance & Troubleshooting

GCMS-5977-2200c - Agilent 7890B/5977 GC/MS Maintenance and Troubleshooting

FOR MORE INFORMATION


Metrohm

Download Metrohm Academy brochure regarding featured courses and seminars here.



ANNOUNCEMENTS
Live E-seminars

Agilent Technologies

OpenLAB CDS 2.1 Webinar Series
Date: March 21th, 2017
Time: 11:00AM ET / 5:00 PM CET
Presenter: Danny Wilks, Technical Field Service Engineer , Agilent Technologies, Inc

More GC & GC/MS e-Seminars here.

Events Canada and the US

Agilent Technologies

Agilent Semiconductor Analytical Technology and Applications SYMPOSIUM
Location: Phoenix, AZ
Date: April 13, 2017



PROMOTIONS
Agilent Technologies

ICP-OES Offer

The Agilent 5110 ICP-OES has reinvented dual view. It is the only ICP-OES system that offers the ability to measure both the radial and axial views simultaneously

FIND OUT MORE


ICPMS Offer

Agilent is currently offering a limited time promotion on all of our ICP-MS instruments including our new Agilent 7800 ICP-MS, 7900 ICP-MS, and 8900 ICP-QQQ. ICP-MS systems are a risk-free investment

For more information, contact:
Mike Gubbels
514-832-4065 or mike.gubbels@agilent.com


Metrohm

Bundle up for Savings!
Metrohm is combining two of its most popular promotions to offer you the maximum savings.

FIND OUT MORE



KEEP UP-TO-DATE
KEEP UP-TO-DATE WITH THE LATEST INDUSTRY NEWS

Sign up for our FREE monthly eNewsletter and receive
updates on:

Laboratory Solutions
Latest Products
Events & Seminars
Promotions
Maintenance Tips
Application Notes
Field Tested Results
Get to know us
And Many More!

SIGN UP HERE