Welcome to the KPrime Quarterly Newsletter, 2017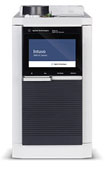 Agilent Intuvo 9000 GC System
Intelligent. Intuitive. Innovative. Intuvo.

Discover higher GC productivity with the New Agilent Intuvo 9000 GC system. The Agilent Intuvo 9000 Gas Chromatograph (GC) system opens new paths to higher productivity and better business outcomes. Built with advanced technologies, the Intuvo 9000 streamlines the GC workflow with a simplified operator experience to reduce operational and maintenance costs often found with conventional GC systems.

High Quality MS Application Solutions
Updating resources to stay current on the broad range of designer drugs



Agilent analyzers, databases and libraries allow you to simplify your startup and to quickly set up a method for your specific application. The GC/MS Analyzers are factory configured and chemically tested to meet method requirements, allowing you to produce quality data and process sample backlogs while reducing method development costs. For targeted and suspect screening on LC/MS, our high quality databases and libraries are fully integrated into MassHunter software for streamlined analysis workflows.



ADM FLOW METER

Ideal for measuring gas streams with composite gas composition. These flow meters are easy to maintain, by simply replacing the cartridge once a year to keep the meter compliant.

VIAL RESOURCES

Agilent A-Line vials are produced from the best sourced glass. This type of glass will not remove analytes from your sample matrixes, meaning that Agilent A-Line vials are the ultimate solution for your precious samples.

ARSINE PHOSPHINE ANALYZER

The Agilent Arsine Phosphine GC/MS analyzer enables detection at single-digit parts per billion (ppb) concentrations and long-term signal stability of arsine, phosphine, and other contaminants in ethylene and propylene, with relative standard deviations of ~5 % or less.


These webinar series will cover cannabis testing applications that many states are now requiring for different purposes to ensure safety and quality. Agilent offers some of the most complete workflows and instrumentation to achieve unparalleled sensitivity and reliability for a broad range of cannabis-testing methods such as pesticides, potency, residual solvents, heavy metals, and terpenes. Each session will run live with a Q&A portion following the presentation.

JUNE EVENTS - 2017
ASMS 2017 - Agilent's Saturday Innovation Symposium
Time: Saturday, June 3 at 5:00pm - 9:30pm
Where: The Westin Indianapolis
241 W Washington Street, Indianapolis, IN, 46204

REGISTER HERE
Mid-Canada AOAC Day
Time: June 21, 2017
Where: Victoria Inn Hotel and Convention Centre
Winnipeg, Manitoba

MORE INFO
Agilent Academy, courses and trainings available at:
http://www.agilent.com/crosslab/university/